Zest Kitchen
The Zest Kitchen is where we start our days and enjoy lunch with our colleagues and friends, devouring tantalising dishes created by our very own Head Chef.
Hi, I'm Stewart Parker
Chief Culinary Ambassador at Zest (aka Head chef at Zest)

I've worked at Zest since 2022 and I fear I will never be allowed to leave.... EVER. You can mostly find me in the basement working, if it's quiet I'm probably not there. I do make a lot of noise and you really can't miss me.
Some of Our Dishes
Pork Carnitas Burrito

Slow-cooked pork burrito with Mexican yellow rice, Salsa Rosa, pickled cabbage, queso fresco, black beans, chipotle, and coriander.

Burger Friday

Vegan aubergine reuben patty,
Zest pickles, onion, vegan cheese, Zest ketchup and our sexy new bun.

Chicken Tikka Masala

Chicken breast cooked in a mild yogurt-based sauce. Finished with coriander and served with rice and naan.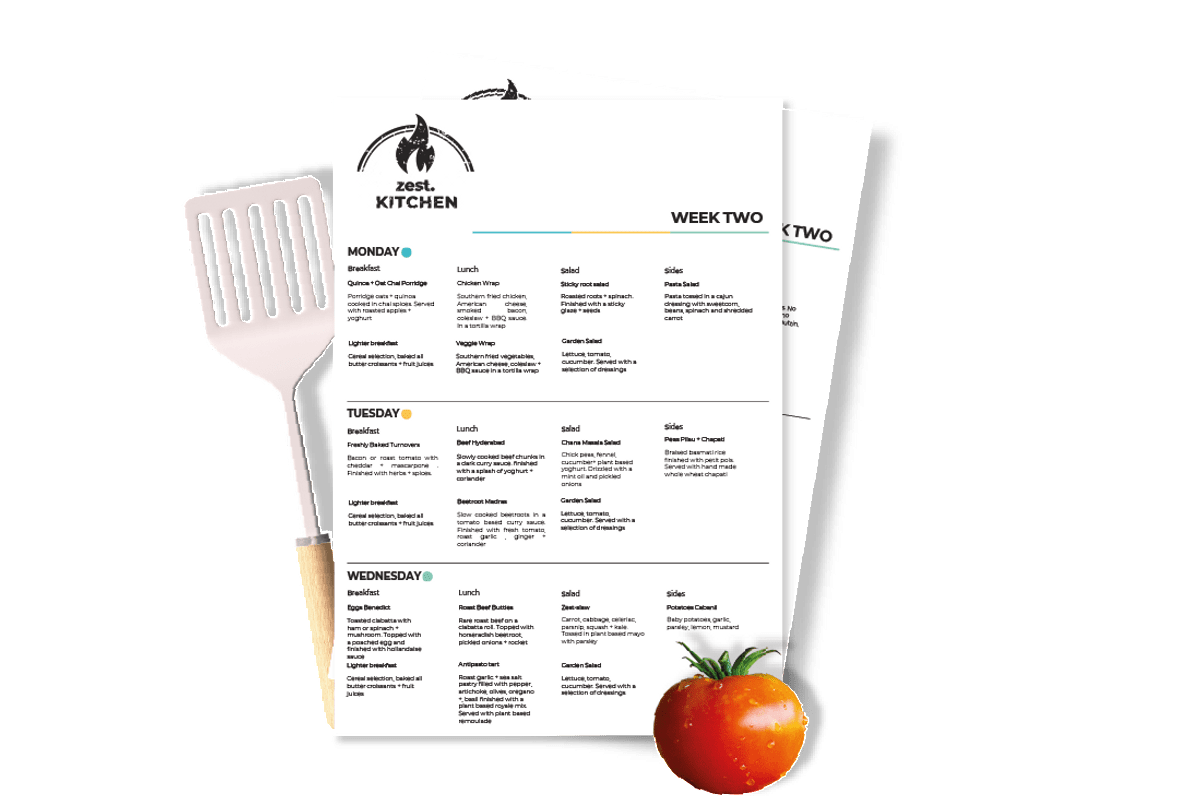 Our Menu
Each week Stewart provides us with exciting new dishes to try, with ingredients sourced from local suppliers and greengrocers. From hearty classics such as cottage pie to new culinary creations like beetroot masala, each week we are excited to see what's on the menu.
FAQ
Yes, we do! Each dish has a vegan/vegetarian alternative - always without the meat but packed with flavour. Stewart takes the time to cater to each and every dietary requirement, ensuring everyone can enjoy his culinary concoctions.

All of our ingredients are locally sourced from suppliers around BCP and the New Forest.

Of course! Requests and feedback help us to create the perfect menu for Zest, and allow our employees to enjoy their favourite dishes at work.

Yes, please do. We try our best to reduce food waste at Zest, so choosing to get take out is a great way to do so, whilst enjoying Stewart's delicious dishes at home!

Breakfast is complimentary, with lots of different options to choose from. Lunch is at a subsidised cost, with the aim to keep it as low as possible.

We created the Zest Kitchen in response to the cost of living crisis. With the price of everything on the rise, we set out to create delicious, nutritional meals that our employees could enjoy at a subsidised cost. We've created a community in our HQ, where our employees can socialise over culinary delights.